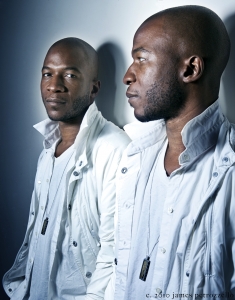 Yah Supreme (Yahya Jeffries-El) was born at Harlem Hospital and grew up in the Brownsville section of Brooklyn. After attending Manhattan's Hunter College High School, he studied performing arts at Washington University in St. Louis as a Harold A. Ramis Scholar. Yah received a bachelor's in acting with training that included instruction by Academy Award-winners Shelley Winters and Ellen Burstyn. He has worked in theatre, film and contributed voiceovers for video games. Yah Supreme is also a composer, MC and singer who fronts the bands Brohemian and Moonset Juice. He is the Master of Ceremonies of (actor/director John Polson's) Tropfest New York. In 2012, he co-hosted the event before 15,000 spectators at Bryant Park with Tony Award-winner Hugh Jackman. In 2013 performed MC detail in front of 22,000 revelers with host (Tony Award-winner) Liev Schreiber at Prospect Park.
Yah's "atmospheric hip-hop" quintet–Brohemian–is a 21st century mash-up of Gil Scott Heron, Marvin Gaye and Guru fused together over funky rhythms. Their simple, yet cinematic songs have attracted an enthusiastic audience to date. Yah Supreme (lead vocals/production) and Tommaso Cappellato (drums/production) formed the project in Brooklyn back in 2004 and independently released their debut album "Post Modern Garden" in 2006.  Prior to forming Brohemian, Yah Supreme has released 5 12-inch singles on vinyl, an EP and a compilation album on compact disc through the labels Son Doo Recordings (Brooklyn) and Underground Academy (Paris).  He has also appeared on albums as a guest with Featherstar, Tiffany Pfeiffer and the Discarnate Band, Jimmy Lopez, Spier 1200, DJ Cam and Fare Soldi.
Yah Supreme & Brohemian are fun and free, yet grown and sexy. Their sound is a unique meshing of bouncy grooves with driving melodies around social experiences, improvisation and stand-up comedy. Brohemian is an international, multi-ethnic movement that reflects "21st century togetherness." Each of the band members boast high-profile collaborations and diverse musical backgrounds. They layer their many influences over a backdrop of hip-hop style, then expand the form.
Yah Supreme & Brohemian's sophomore album "Naked City" is now in production.  Yah is also currently composing songs with producer Phil Money on the album "The 40-Year-Old Version" and is the co-producer and vocalist for the duo Moonset Juice under the pseudonym "Bruce Gladstones." His third musical project, Cellophane Grotto is contributing music for the score and soundtrack of Big Whiskey Pictures' upcoming film "Purpose Built."